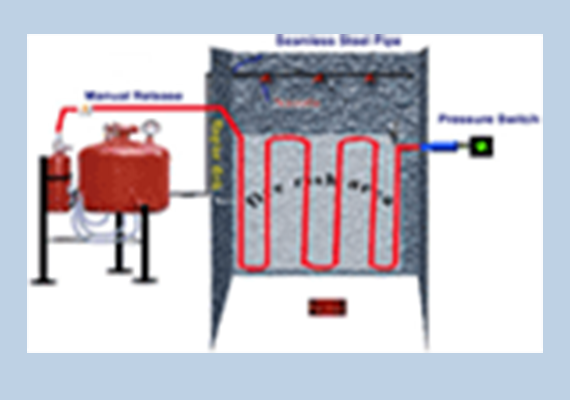 Fire Extinguishing System
AUTO ABC 150KG FIRE EXTINGUSHING SYSTEM WITH AUTO FIRE DETECTION TUBE TECHNOLOGY
RELIANCE SKIT MOUNTED ABC powder fire fighting unit 150 kg capacity. Vessels are made of boiler quality steel plate 8 mm thick radiography welding as per ASME code. Skit mounted having a Auto Fire Detection tube 25mtr. Long fitted. The discharge line can be fixed with open type nozzle, Expelling agent of Co2 cylinder agent which is fitted with Auto Fire Detection specially designed imported Ceodeux valve and specially designed DIFFUSER SYSTEM to achieve minimum 98% discharge. Used for all classes of fire.
This system consist of the following:
Expelling cylinder and Skit mounted ABC container with discharge output nozzle.
Expelling container connected through with manifold & diffuser nozzle to main cylinder.
It is also fitted with Ceodex Valve, one end connected with Auto Fire Detection Tube to detect and another end fitted with pressure switch and hooter.
Auto Fire Detection Tube will be installed with pressure of 12kg/cm2. Incase of fire the tube gets rupture in the temperature 115oC . Whereby the pressure in tube comes down to 0 level sudden falling in pressure opens the valve and release the expelling gas to main cylinder through manifold and diffuser system
Discharge from main cylinder at fixed pressure through rapture disc to flood and quench fire instantly.
Rapture disc can also be designed depends upon hazardous area.
This the only latest technology which is used for all kind of inflammable hazards at open area.